Washington State University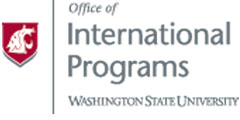 WASHINGTON STATE UNIVERSITY
Academic English at Washington State University
Program Type:
College/University Affiliated
Washington State University
Pullman, WA 99164 3251

Forward to a Friend
Host Institution: Washington State University

Host City Size: Up to 50,000

Year Established: 1984

Accreditations: Commission on English Language Program Accreditation

IEP Membership Organizations: EnglishUSA

Terms and Costs:
| Weeks | Start Date | End Date | Tuition | Fees | Issurance Costs |
| --- | --- | --- | --- | --- | --- |
| 8 | Jan 01, 1900 | Jan 01, 1900 | $3,075 | $495 | $370 |
Insurance Details:
mandatory estimated cost
Financial Aid Available:
Yes
Services Available:
Academic Counseling, Academic Placement, Airport Meeting, Campus Orientation, Conversation Partners, Crosscultural Activities, Field Trips, Homestay, Host Family, Housing Assistance, International Student Advisor, Personal/Cultural Counseling, Recreational Activities, Visa/Tax Counseling
Additional Program Information

Part-time study option: yes

Part-time Eligibility: appropriate visa status

Admissions: All Applicants

Admission Conditions: Completed application form, application fee, proof of financial capability, at least 16 years of age.

Visa Forms Issued: I-20, DS-2019

Pre-academic work completed in IEP eligible for college/university credit: no

Maximum Credits Eligible: 12

Courses that can be Replaced: N/A

Conditions: Students can apply for an undergraduate or graduate bridge program after completing a commensurate level of Academic English.

IEP students can take academic courses at college/university: yes

Maximum Credits Avail.: 12

Degree Levels: undergraduate

Academic Admissions Conditions: Admissions criteria are online

TOEFL Required for Undergraduate Admission: no

If TOEFL is not Required, Test Used: Completion of Level 5 at the Intensive American Language Center at WSU.

TOEFL Required for Graduate Admission: no

If TOEFL is not Required, Test Used: Completion of Level 6 at the Intensive American Language Center at WSU.

Articulation Agreement(s): yes

Articulation Agreement Details: Students may be admitted to most Washington State community colleges without a TOEFL score if they pass level 4 at the Intensive American Language Center5


Housing Information

Campus Housing Availability: Available

Campus Housing Assistance Available: no

Average Housing Cost per Month: $$3028

Housing Cost Type: Room and Board

Additional Housing Info: Price is an estimate for a double room and meal plan for 8 weeks

Off-Campus Housing Availability: Readily available, moderately priced

Off-Campus housing Assistance Available: no

Homestay Assistance Available: no


Search https://ialc.wsu.edu
Are you looking for more customized information on a product or service?