University Of Minnesota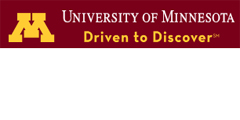 UNIVERSITY OF MINNESOTA
Minnesota English Language Program
Program Type:
College/University Affiliated
Minnesota English Language Program
20 Nicholson Hall
216 Pillsbury Dr. SE
Minneapolis, MN 55455-

Forward to a Friend

Host Institution: University Of Minnesota

Host City Size: Over 500,000

Year Established: 1968

Accreditations: Commission on English Language Program Accreditation, North Central Association of Colleges and Schools, The Higher Learning Commission

IEP Membership Organizations: EnglishUSA, UCIEP

English for Specific Purpose Courses:
| Specific Purpose | hrs |
| --- | --- |
| Academic Preparation | |
Terms and Costs:
| Weeks | Start Date | End Date | Tuition | Fees | Issurance Costs |
| --- | --- | --- | --- | --- | --- |
| 7 | Jun 20, 2023 | Aug 04, 2023 | $4,025 | $304 | $690 |
| 15 | Sep 06, 2022 | Dec 16, 2022 | $6,275 | $459 | $1,398 |
| 15 | Jan 17, 2023 | May 04, 2023 | $6,275 | $459 | $1,398 |
Insurance Details:
Students on F-1 visas are required to purchase the university insurance plan, or prove they have equivalent coverage through a U.S.-based company. See our website for summer program insurance costs.
Other Costs:
Books typically cost $200 per semester, $150 for summer.
Financial Aid Available:
Yes
Services Available:
Academic Counseling, Campus Orientation, Conversation Partners, Crosscultural Activities, Field Trips, International Student Advisor, Personal/Cultural Counseling, Recreational Activities, Visa/Tax Counseling
Additional Program Information

Part-time study option: yes

Part-time Eligibility: Part-time options available for students in the local area. Students must have a high school diploma and have previously studied English for 2 years or more.

Other Test Type: Program test

Admissions: All Applicants

Admission Conditions: To be accepted into our program you must prove that you have graduated from high school, have studied English for at least 2 years, and verify that you have the funds to cover your expenses during the time you are studying in the United States.

Visa Forms Issued: I-20

Pre-academic work completed in IEP eligible for college/university credit: no

Maximum Credits Eligible: 0

IEP students can take academic courses at college/university: yes

Maximum Credits Avail.: 10

Degree Levels: Undergraduate

Academic Admissions Conditions: Students in the IEP can apply for conditional admission to several UMN campuses.

TOEFL Required for Undergraduate Admission: no

If TOEFL is not Required, Test Used: Test internal to program, IELTS, TOEFL, PTE Academic, or Cambridge Advanced accepted

TOEFL Required for Graduate Admission: no

If TOEFL is not Required, Test Used: Test internal to program, IELTS, TOEFL, PTE Academic, or Cambridge Advanced accepted

Articulation Agreement(s): no

Articulation Agreement Details: Only credits in academic elective classes transfer. Several community colleges accept program recommendation in place of English proficiency test.


Housing Information

Campus Housing Availability: Available year-round

Campus Housing Assistance Available: yes

Average Housing Cost per Month: $$3327

Housing Cost Type: Room

Additional Housing Info: Various on-campus housing types available, costs vary by type of room selected.

Off-Campus Housing Availability: Readily available, moderately priced

Off-Campus housing Assistance Available: yes

Homestay Assistance Available: no


Search https://www.ccaps.umn.edu/iep
Are you looking for more customized information on a product or service?