Syracuse University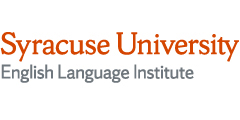 SYRACUSE UNIVERSITY
English Language Institute
Program Type:
College/University Affiliated
English Language Institute
Syracuse University University College
700 University Avenue, Room 207
Syracuse, NY 13244-

Forward to a Friend
Host Institution: Syracuse University

Host City Size: 50,001 to 200,000

Year Established: 1979

Accreditations: Middle States Association of Colleges and Schools

IEP Membership Organizations: EnglishUSA

Website:
https://eli.syr.edu
E-Mail:
Phone #:
(315) 443-8571
Application Contact Info:
Syracuse University, English Language Institute; 700 University Ave., Rm 207; Syracuse NY 13244 Application contact info: Jackie Monsour
English for Specific Purpose Courses:
| Specific Purpose | hrs |
| --- | --- |
| Art/Design/Architecture | 21 |
| Law | 21 |
Additional Course Info:
individual courses available for student needs
Terms and Costs:
| Weeks | Start Date | End Date | Tuition | Fees | Issurance Costs |
| --- | --- | --- | --- | --- | --- |
| 6 | Jan 01, 1900 | Jan 01, 1900 | $3,665 | | |
| 15 | Jan 01, 1900 | Jan 01, 1900 | $7,330 | | |
Insurance Details:
per month
Other Costs:
books $350; optional express mail charges $50
Services Available:
Academic Counseling, Airport Meeting, Campus Orientation, Conversation Partners, Crosscultural Activities, Field Trips, Housing Assistance, International Student Advisor, Personal/Cultural Counseling
Additional Program Information

Part-time study option: yes

Part-time Eligibility: dependents, permanent residents

Tests used by the IEP for admission and proficiency: IELTS, TOEFL, TOEIC, Other

Admissions: All Applicants

Admission Conditions: Non-native English speakers applying from overseas must obtain F-1 or J-1 visa. Applicants must have completed high school and must be at least 17 years of age.

Visa Forms Issued: I-20

Pre-academic work completed in IEP eligible for college/university credit: no

Maximum Credits Eligible: 0

Courses that can be Replaced: N/A

Conditions: Students enrolled in Level 4 may take academic credit courses

IEP students can take academic courses at college/university: yes

Maximum Credits Avail.: 3

Degree Levels: undergraduate and graduate

Academic Admissions Conditions: Students interested in acceptance to a degree program must apply directly to the Admissions Office at Syracuse University .

TOEFL Required for Undergraduate Admission: yes

If TOEFL is not Required, Test Used: However, IELTS or TOEFL waived if undergraduates complete advanced Level 4 at ELI.

TOEFL Required for Graduate Admission: yes

If TOEFL is not Required, Test Used: TOEFL or IELTS is waived by some graduate departments upon completion of IEP and a recommendation.

Articulation Agreement(s): yes

Articulation Agreement Details: SUNY Jefferson, Trine University


Housing Information

Campus Housing Availability: Available year-round

Campus Housing Assistance Available: yes

Average Housing Cost per Month: $6000

Housing Cost Type: Room

Additional Housing Info: $650-$1200 per month during summer months

Off-Campus Housing Availability: Readily available

Off-Campus housing Assistance Available: yes

Homestay Assistance Available: yes


Search https://eli.syr.edu
Are you looking for more customized information on a product or service?