Duquesne University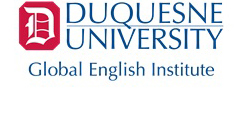 DUQUESNE UNIVERSITY
Global English Institute
Program Type:
College/University Affiliated
Duquesne University
600 Forbes Avenue, 1M Libermann Hall
Attn: Global English Institute
Pittsburgh, PA 15282-

Forward to a Friend
Host Institution: Duquesne University

Host City Size: Over 500,000

Year Established: 1986

Accreditations: Commission on English Language Program Accreditation

IEP Membership Organizations: EnglishUSA

English for Specific Purpose Courses:
| Specific Purpose | hrs |
| --- | --- |
| Academic Preparation | |
| Preparation For Graduate Studies | |
| IELTS Exam Prep | |
| TESOL/TEFL | |
Additional Course Info:
Academically accepted students may take academic courses with Level 3 and Bridge ESL; on-site tutors and conversation partners
Terms and Costs:
| Weeks | Start Date | End Date | Tuition | Fees | Issurance Costs |
| --- | --- | --- | --- | --- | --- |
| 15 | Jan 01, 1900 | Jan 01, 1900 | $5,000 | | |
Insurance Details:
Required for all international students.
Other Costs:
$ 350 Books Personal Expenses $ 1000
Financial Aid Available:
Yes
Services Available:
Academic Counseling, Academic Placement, Airport Meeting, Campus Orientation, Conversation Partners, Crosscultural Activities, Field Trips, International Student Advisor, Recreational Activities, Visa/Tax Counseling
Additional Program Information

Part-time study option: yes

Part-time Eligibility: F-2 visa holders may be approved for incidental part-time study.

Other Test Type: CaMLA EPT

Admissions: All Applicants

Admission Conditions: Graduation from secondary school and academic record.

Visa Forms Issued: I-20, DS-2019

Pre-academic work completed in IEP eligible for college/university credit: yes

Maximum Credits Eligible: 6

Courses that can be Replaced: Foreign language or some electives; the policy varies by school.

Conditions: Must be accepted into an academic program at Duquesne University.

IEP students can take academic courses at college/university: yes

Maximum Credits Avail.: 6

Degree Levels: Undergraduate Graduate

Academic Admissions Conditions: Separate application for an academic admission is required.

TOEFL Required for Undergraduate Admission: no

If TOEFL is not Required, Test Used: CaMLA EPT, Program Writing Test, IELTS

TOEFL Required for Graduate Admission: yes

If TOEFL is not Required, Test Used: IELTS also accepted by some schools

Articulation Agreement(s): no


Housing Information

Campus Housing Availability: Available year-round

Campus Housing Assistance Available: yes

Average Housing Cost per Month: $$11000

Housing Cost Type: Room and Board

Additional Housing Info: Housing for families available only off campus.

Off-Campus Housing Availability: Moderately priced

Off-Campus housing Assistance Available: yes

Homestay Assistance Available: yes


Search https://www.duq.edu/social-impact/community-and-global-service/global-english-institute-gei/index.php
Are you looking for more customized information on a product or service?