Cleveland State University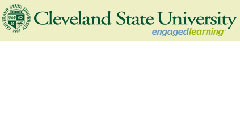 CLEVELAND STATE UNIVERSITY
Intensive English Language Program
Program Type:
College/University Affiliated
Intensive English Language Program
Cleveland State University
2121 Euclid Avenue, MM 205
Cleveland, OH 44115-

Forward to a Friend
Host Institution: Cleveland State University

Host City Size: Over 500,000

Year Established: 2005

Accreditations: Commission on English Language Program Accreditation, North Central Association of Colleges and Schools, The Higher Learning Commission

IEP Membership Organizations: EnglishUSA

Phone #:
(216) 875-9669
Phone #2:
(216) 875-9904
Fax #:
(216) 687-5299
E-Mail:
Website:
http://www.csuohio.edu/ielp
Application Contact Info:
Fill out application at www.csuohio.edu/ielp. A copy of your passport must be attached to send the application and a financial document must be sent to process it. The application fee is paid separately (see website for directions) Please visit the website for more detailed information, especially for express mail delivery. Transcripts may be included if you are also applying to Cleveland State University for conditional admission.
Course Schedule:
| Level | Class hrs/wk | Lab hrs/wk | CAI hrs/wk | Other* hrs/wk |
| --- | --- | --- | --- | --- |
| HB: | 20 | 0 | 0 | 2 |
| LI: | 20 | 0 | 0 | 2 |
| HI: | 20 | 0 | 0 | 2 |
| A: | 20 | 0 | 0 | 2 |
* Other Course Type:
Optional: cultural activities & trips, conversation partner and tutoring.
Additional Course Info:
Levels are offered based on enrollment. High Beginning is not for true beginners. Special short term programs can be designed for groups (late May through early August). Please contact the ESL Program Director.
English for Specific Purpose:
| Specific Purpose | hrs |
| --- | --- |
| University Preparation | 0 |
Terms:
| Term Duration in Weeks | Start Month |
| --- | --- |
| 15 | January |
| 12 | May |
| 15 | August |
Terms Additional Info:
Required orientation & placement testing will take place before classes begin. Information will be sent with an acceptance letter.
Program Size:
20
Program Size, Summer:
10
Average Class Size:
7
Minimum Class Size:
6
Maximum Class Size:
18
Distribution:
| Region | Percent |
| --- | --- |
| Americas | 7.00 |
| Asia | 10.00 |
| Europe | 1.00 |
| Middle East/North Africa | 82.00 |
Full-time Instructors:
1
Part-time Instructors:
4
Average Full-time Hours per Week:
20
Advanced Degree in TESOL or related field Full-time:
1
Advanced Degree in TESOL or related field Part-time:
4
Full-time Admin:
23
Part-time Admin:
0
Part-time study option:
yes
Part-time Eligibility:
Permanent Residents or citizens of the United States and certain visa-holders are permitted to enroll part-time in the Intensive English Language Program on a space available basis.
Tests used by the IEP for admission and proficiency:
Other
Admissions: All Applicants

Admission Conditions: All applicants must send completed application & application fee and copy of passport. All international students must apply for F-1 visa and provide financial support documents. Students should be at least 18 years of age and/or have a high school

Visa Forms Issued: I-20

Other Visa Forms Issued - Details: none

Pre-academic work completed in IEP eligible for college/university credit: no

Maximum Credits Eligible: 0

IEP students can take academic courses at college/university: no

Maximum Credits Avail.: 0

I-20 Includes Academic Admission: no

Academic Admissions Conditions: Cleveland State University has conditional admission for undergraduate students who meet academic requirements, but do not have English Language Proficiency. See other requirements at www.csuohio.edu/international-admissions/international-admissi

TOEFL Required for Undergraduate Admission: no

If TOEFL is not Required, Test Used: TOEFL, IELTS and several other tests or completion of IELP are accepted. See requirements at www.csuohio.edu/international-admissions/international-admissions

TOEFL Required for Graduate Admission: no

If TOEFL is not Required, Test Used: Most graduate programs may require GRE or GMAT. Several other tests and completion of IELP accepted. See www.csuohio.edu/international-admissions/international-admissions-graduate-students-admission-requirements

Articulation Agreement(s): no


Tuition:
| Tuition | Weeks |
| --- | --- |
| 4570 | 12 weeks (summer) |
| 5060 | 15 weeks |
Fees: $
30
Insurance Cost: $
859
Insurance Details:
Insurance for spring & summer charged in January (at $1357). Waiver only available for those who qualify. Special short-term groups may have special daily rates. 12-week Summer rate $539. All are subject to change.
Other Costs:
One time $40 non-refundable application fee. Per semester: $250 books/materials (estimated); $1800 Personal expenses (estimated).Housing costs vary.
Financial Aid Available:
None
Campus Housing Availability:
Available
Campus Housing Assistance Available:
yes
Housing Costs: $
4395
Housing Weeks:
15
Housing Cost Type:
Room
Additional Housing Info:
IELP will provide information about housing, but it is a separate application. Students must ask for assistance. Different rates available. Students usually have a roommate. Breaks & summer have different rates. http://www.csuohio.edu/services/reslif
Off-Campus Housing Availability:
Readily available, moderately priced
Off-Campus housing Assistance Available:
no
Homestay Assistance Available:
no
Board Plan Availability:
Board plan available
Board Plan Costs: $
1800
Board Plan Weeks:
15
Board Plan Additional Info:
Students who live on campus must buy a meal plan, but may buy smaller plan if room has kitchenette. There are several plans.
Services Available:
Academic Counseling, Airport Meeting, Campus Orientation, Conversation Partners, Crosscultural Activities, Field Trips, Housing Assistance, International Student Advisor, Personal/Cultural Counseling, Recreational Activities
Search http://www.csuohio.edu/ielp
Are you looking for more customized information on a product or service?