Rice University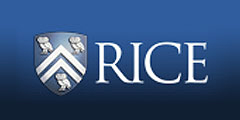 RICE UNIVERSITY
Intensive English Program
Program Type:
College/University Affiliated
Glasscock School of Continuing Studies
Language Programs - MS 560
PO Box 1892
Houston, TX 77251 1892

Forward to a Friend
Host Institution: Rice University

Host City Size: Over 500,000

Year Established: 1978

Accreditations: Southern Association of Colleges and Schools, Commission on Colleges

IEP Membership Organizations: EnglishUSA

Website:
https://esl.rice.edu
E-Mail:
Phone #:
(713) 348-4019
Application Contact Info:
Rice University School of Continuing Studies; Language Programs MS-560; P.O. Box 1892; Houston, Texas 77251-1892
Terms and Costs:
| Weeks | Start Date | End Date | Tuition | Fees | Issurance Costs |
| --- | --- | --- | --- | --- | --- |
| 7 | Apr 22, 2022 | Apr 23, 2022 | $2,450 | | |
Insurance Details:
Students are responsible for purchasing their own medical insurance.
Other Costs:
The $100 fee above is a one-time testing and registration fee. Per session fees: Books (175), Rice ID (10) and parking fee (30). The per session fees are subject to change.
Financial Aid Available:
Yes
Services Available:
Academic Counseling, Campus Orientation, Conversation Partners, Crosscultural Activities, Field Trips, International Student Advisor, Recreational Activities, Visa/Tax Counseling
Additional Program Information

Part-time study option: no

Admissions: All Applicants

Admission Conditions: Must have graduated from secondary school

Visa Forms Issued: I-20

Other Visa Forms Issued - Details: none

Pre-academic work completed in IEP eligible for college/university credit: no

Maximum Credits Eligible: 0

IEP students can take academic courses at college/university: no

Maximum Credits Avail.: 0

TOEFL Required for Undergraduate Admission: yes

TOEFL Required for Graduate Admission: yes

Articulation Agreement(s): no


Housing Information

Campus Housing Assistance Available: no

Additional Housing Info: Students are responsible for making their own housing arrangements. Although the program does not provide housing or make housing arrangements, students may contact the Intensive English program for a list of housing suggestions.

Off-Campus Housing Availability: Readily available, moderately priced

Off-Campus housing Assistance Available: no

Homestay Assistance Available: no


Search https://esl.rice.edu
Are you looking for more customized information on a product or service?